If you read my last post, you saw my tirade about the model who wouldn't hold a pose, and how I gave up after she cut it short to answer a text message. This is the pose that put me over the edge.
It was supposed to be an hour long broken into two-30 min. segments, which is a long time to hold a single position, even if it is split up. I usually take sketches to a max level of development in a drawing session, and to do more feels like I should have committed to a full blown drawing. This level usually takes about 20 min, so I was planning to do two sketches, from two different angles; instead of one pose that I'd just over work for no reason.
First up was this angle, and she was already pushing my nerves from kicking her feet back and forth, checking her nails, playing with the split ends in her hair…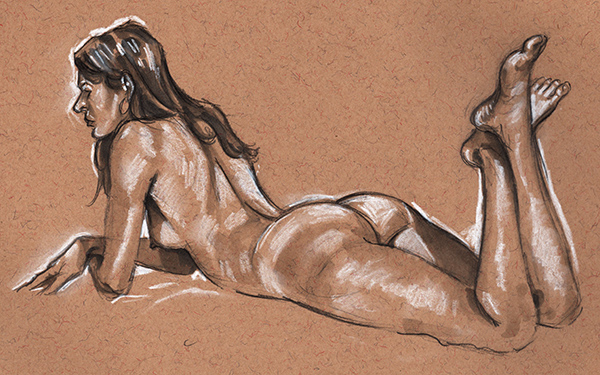 But when she started the second, she was about 13-15 min. into it, got a text on her phone, giggled a bit, and then cut the pose short so she could reply on her phone. WTH, seriously?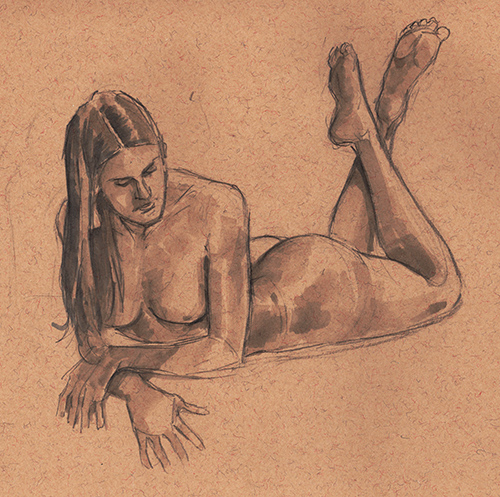 I admit it… I'm a nut case when drawing. I use a timer, and base what I should be doing on how much time I have left. In a 20 min, I usually sketch in the  figure out for the first 10, which gives me time to position the drawing on the paper, start over if I didn't leave enough space, get proportions down, some face/hand/feet/hair details, etc… I'll drop in grayscale for the next 5, then highlights and tweaks for the last bit— BOOM, 20 min. done. I don't expect to be half way in, then have the pose cut off randomly; least of all for a non-emergency phone call. Ugh.
Again, modeling is not easy, and a good model is gold, where as this one…