Which is odd, because the Brits don't celebrate turkey day!
Anyway, here is the last Mandi strip of the year. That's the strip which promotes mental health for kids, and I thought it might be fun to see how the strip gets made.
Craig Graham sends me a script, but it's not like the others I get. It's practically drawn out for me, and I sort of spruce it up. Below is the evolution of one panel.
Here's what I get from Craig…
And then below is what I draw. You can see the original strip beneath mine, which I use like a blueprint… literally; because I print it out in blue and draw over that.  For this panel I added some details to explain why the girls are in detention to begin with. Thankfully Craig didn't mind my additions.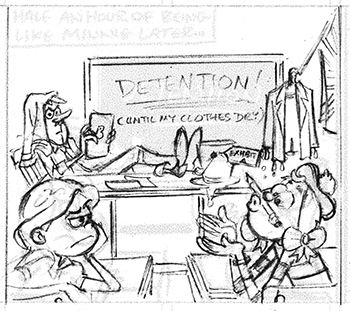 And lastly the final.