I didn't see anyone upload an example to my reference from last week's Superb Owl post, so no-no-no prize goes to anyone! Anyway, here's what I was paying homage to…
The image was based on a series of NFL posters that seemed to be everywhere when I was a kid. This was the one I had in my room, as I was a Dolphins fan back then. They had a set design to them, not just a hero shot of a player and the logo, but reoccurring graphic elements, as well as tossing in details specific to the city the teams were in. Guess I'm showing my age, that no one caught this. Oh well.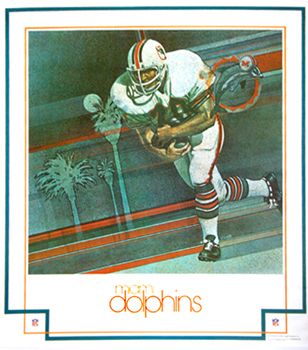 For mine, I included the Monument Valley area surrounding the "P.I.T.", and the Joe logo. Here it is again for easy reference.